FOOD FOR THOUGHT, part  4
You will need:
1 bag of Large Marshmallows
A candle
A Bible marked at 2 Corinthians 5:17
Get Started
Take turns roasting marshmallows over a candle. This can be safely done inside, but be sure to tell your children never to do this unless you are with them. Also, if you put the marshmallow on a fork to hold it over the flame, don't immediately stick it into your mouth. Instead, scrape it onto a plate and use a separate utensil with which to eat it
ASK—How did the marshmallow change when it was over the fire? (It looked different. It even tasted different. It got hot, etc.)
SAY—Just like the flame brought a change to the marshmallows, Jesus can bring a change to anyone who is willing to give their lives to Him.
Read 2 Corinthians 5:17 from your Bible.
SAY—It doesn't matter how good or bad a person is or what they look like or what mistakes they've made, Jesus is willing to save anyone who comes to Him. Jesus can even change the heart of the meanest person in the world if that person is willing to accept Him as Lord and Savior.
PRAY—Pray for someone you know whom you think doesn't know Jesus.
This family devotion is from: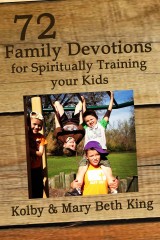 72 Family Devotions for Spiritually Training Your Kids
ON SALE for $5.99. Regular price: $9.99 USD. Nonfiction.
Featuring 72 action-packed, easy-to-lead family devotions. Set aside a night or two each week for a "special time" where you and your kids can have family fun together and learn valuable lessons from God's Word. No advanced planning is needed. Anyone can do this. The ebook contains devotions concerning a variety of topics including salvation, fear, trust, sin, forgiveness and much more.
Find more family resources at 330resources.org/family.
If these resources bless you, consider supporting this ministry:
Follow Us:



Share these resources: