FOOD FOR THOUGHT, part  3
You will need:
Instant Hot Chocolate
Cups
Small Marshmallows
Hot Water (but not too hot)
A Bible marked at Romans 8:38-39, John 10:28-29
Get Started
Help each member of your family make a cup of hot chocolate. Then, once it's mixed, ask them if they can separate out the chocolate from the water.
SAY—Just like the chocolate and the water can't be separated because they have been joined together, when you give your life to Jesus, you are joined to Him and nothing can separate you from His love.
Read Romans 8:38-39 from your Bible.

ASK—What can separate you from the love of Christ? (Nothing—not even you. After all, you are a "created thing")
SAY—Once you've given your life to Christ, nothing can separate you from Him.
Read John 10:28-29 from your Bible.
Put a small marshmallow in your hand and make a fist. Ask if anyone thinks they can pull it out. Let them take turns trying. Even let them use two hands or join in together. The only way for them to get it out is to be stronger than you.
ASK—Is anyone stronger than God?  (No.)
SAY—Then no one is able to pull you out of His hands and He will never let go of you. He loves you and will always keep you in His hands.
This family devotion is from: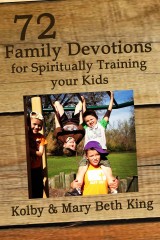 72 Family Devotions for Spiritually Training Your Kids
ON SALE for $5.99. Regular price: $9.99 USD. Nonfiction.
Featuring 72 action-packed, easy-to-lead family devotions. Set aside a night or two each week for a "special time" where you and your kids can have family fun together and learn valuable lessons from God's Word. No advanced planning is needed. Anyone can do this. The ebook contains devotions concerning a variety of topics including salvation, fear, trust, sin, forgiveness and much more.
Find more family resources at 330resources.org/family.
If these resources bless you, consider supporting this ministry:
Follow Us:



Share these resources: