YOU WILL NEED:
-A Bible marked at Luke 18:1-8
Tell some more "Knock, Knock" jokes. Here are some more examples:
Knock, Knock / Who's There?
House / House Who?
House it going?
Knock, Knock / Who's There?
Watson / Watson Who?
Watson TV?
Colleen / Colleen Who?
Colleen up your room, please.
Knock, Knock / Who's There?
Gorilla / Gorilla Who?
Gorilla me a cheese sandwich, please.
Knock, Knock / Who's There?
Huge / Huge Who?
Huge you expect.
Knock, Knock / Who's There?
Yaw / Yaw Who?
Just me. Why are you so excited?
Knock, Knock / Who's There?
Leena / Leena Who?
Leena little closer and I'll tell you.
Read Luke 18:1-8 from your Bible.
SAY—The point of this story is NOT that God is like the grumpy guy who doesn't want to give justice. God loves giving us good things. The point is that God wants us to be persistent—To ask and keep asking, to seek and keep seeking, to knock and keep knocking. When we pray, God doesn't want us to give up.
ASK—Does God always answer prayer? (Yes.)
ASK—How does God always answer prayer? (God ALWAYS answers prayer in one of three ways: He answers by saying "Yes" or "No" or "Later—not right now—wait a while." God doesn't always answer yes, but He does always answer.)
SAY—God loves you and you can always talk to Him about anything.
ASK—What are some things that you would like to talk to God about tonight?
PRAY—Take turns praying and laying your requests before God.
This family devotion is from: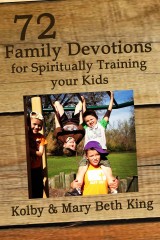 72 Family Devotions for Spiritually Training Your Kids
ON SALE for $5.99. Regular price: $9.99 USD. Nonfiction.
Featuring 72 action-packed, easy-to-lead family devotions. Set aside a night or two each week for a "special time" where you and your kids can have family fun together and learn valuable lessons from God's Word. No advanced planning is needed. Anyone can do this. The ebook contains devotions concerning a variety of topics including salvation, fear, trust, sin, forgiveness and much more.
Find more family resources at 330resources.org/family.
If these resources bless you, consider supporting this ministry:
Follow Us:



Share these resources: