ICE CUBE MELT
You will need:
An ice cube or a small ice sickle for each child
A Bible marked at Luke 22:39-44
Get Started
Give each family member an ice cube and race to see who can melt theirs the fastest by holding it in their hand.
ASK—Did you ever feel like giving up?
SAY—I'm going to read a story to you out of the Bible about a time when Jesus didn't give up.
Read Luke 22:39-44 from your Bible.
ASK—When Jesus said "cup" what do you think He was talking about? 
SAY—He was referring to all the pain and suffering He would have to endure to pay the price for our sins. Even though He was born to be the Savior of the world–That's what Christmas is all about! And even though He was perfect, it still didn't make it easy for Him to take the punishment for everybody's wrongdoings. But this is how much He loves you—That he suffered and died to make a way to forgive your sins and to make a way for you to go to heaven.
PRAY—Thank Jesus for being the Savior of the world.
This family devotion is from: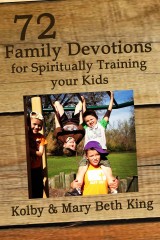 72 Family Devotions for Spiritually Training Your Kids
ON SALE for $5.99. Regular price: $9.99 USD. Nonfiction.
Featuring 72 action-packed, easy-to-lead family devotions. Set aside a night or two each week for a "special time" where you and your kids can have family fun together and learn valuable lessons from God's Word. No advanced planning is needed. Anyone can do this. The ebook contains devotions concerning a variety of topics including salvation, fear, trust, sin, forgiveness and much more.
Find more family resources at 330resources.org/family.
If these resources bless you, consider supporting this ministry:
Follow Us:



Share these resources: