Often after services people will surround you wanting you to pray for them. I think this is a part of the culture of Christianity here and I believe it springs from a Hindu custom. In Hinduism people want a "holy man" to bless them. On the Christian side I believe this shifts to wanting a minister to pray for them. At one of the open air meetings, people surrounded me as soon as the service was over. It's hard to describe but it reminded me of when the women with the issue of blood touched Jesus and when Jesus asked who touched Him the disciple referred to how the crowd was pressing in on Him. That idea of a crowd pressing in on you is exactly what this instance was like. I literally couldn't move any direction and from every direction people were reaching out and saying things like "Pray, pray," or were pointing to the places on their bodies that they were hurting and saying "Headache," "hand", "foot", etc. And even while you were praying for someone, you could feel other reaching out to you and bumping into you.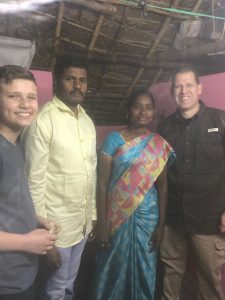 On the last night of our mission trip, the pastor asked if we could visit the hut of a couple who has been trying to have a baby for 10 years on our way to our last meeting. We agreed and Titus and I went. This couple lives in a very small, thatched hut that the husband made himself. There are only two small rooms, both about 7 feet by 7 feet. They were poor but they welcomed us with gifts. This was unnecessary, of course, but giving gifts in their culture seems to be a source of great joy. The wife had cooked a very special "snack." It had four sweet items that are hard to describe. We ate these off banana leaves. The photo can't do justice to the taste of these treat. All four of these items were amazingly good.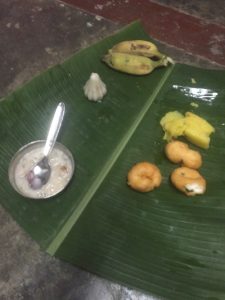 We talked and ate and then we knelt in the middle of their hut and prayed that God would bless them, as He did Hannah in the Bible, with a child and that their child would grow up to be a godly follower of Christ. I'm asking you to join me as I continue to pray for the Lord to give them a baby.
Follow Us:



Share these resources: