YOU WILL NEED:
-A piece of paper
-A book
-A piece of tape
-A Bible marked at Philippians 4:13
Try to figure this out:
How can one piece of paper hold up an entire book?
Try this experiment to find out how:
Take one piece of regular paper. Roll it up to look like a toilet paper or paper towel tube. Then use a piece of tape to hold the roll in place. Set it on a flat surface so that it stands up tall. Then carefully place the book on top of it.
SAY—The paper did something you might have thought was impossible at first. But just remember that with God all things are possible and the Lord will never call you to do anything that He will not also give you the strength you need to do it.
Read Philippians 4:13 from your Bible.
PRAY—That your kids will always follow Jesus and trust Him for everything they'll ever need in life.
BREAKFAST BITES
ASK—If you had all power and you could do anything, what would you do? (Fly? Have a million dollars? Run faster than a bullet? Jump over tall buildings?)
ASK—If God could do anything with your life, what do you think He might do? (Use you to tell others about Him, call you to be a minister or missionary, let you go to another country to share Jesus, etc.)
KEY THOUGHT: There is no limit to the incredible things God can do through you if you follow Him and let Him work in your life in any way He wants.
Read Philippians 4:13
---
Get More Family Devotions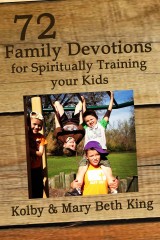 Family Devotions for Spiritually Training Your Kids
ON SALE for $5.99. Regular price: $9.99 USD. 25280 words.  Nonfiction.
Featuring 72 action-packed, easy-to-lead family devotions. Set aside a night or two each week for a "special time" where you and your kids can have family fun together and learn valuable lessons from God's Word. No advanced planning is needed. Anyone can do this. The ebook contains devotions concerning a variety of topics including salvation, fear, trust, sin, forgiveness and much more.
Join us on Facebook at: www.Facebook.com/ThreeThirtyMinistries
Discover more Christian Resources at www.330resources.org.
Follow Us:



Share these resources: