YOU WILL NEED:
-Something you can throw.
-A Bible marked at 1 Peter 5:7.
TELL your child that you are going to throw an item to them and you want them to catch it and throw it back. Do this several times.
ASK—What does it mean to "cast" something? ("Casting" is another way of saying "throwing.")
SAY—We are going to read about something that God wants us to throw His way.
Read 1 Peter 5:7 from your Bible.
ASK—What does God want you to "cast" on Him? (Your cares.)
ASK—Some of your cares or all of your cares? (All your cares.)
ASK—Why can you cast all your cares on God? (Because He cares for you.)
TOSS the item back and forth but each time you throw it, say a care or worry that someone might have.
ASK—What are some cares or worries that you have?
PRAY—Take turns praying and let each member of your family tell God about a care or worry (something that concerns them)—something they are throwing God's way and trusting Him with. For example, "Dear Lord, Grandma is sick. Please help her to get better. I give this to you. In Jesus' Name—Amen."
This family devotion is from: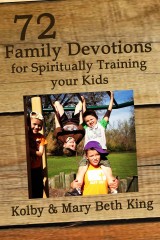 72 Family Devotions for Spiritually Training Your Kids
ON SALE for $5.99. Regular price: $9.99 USD. Nonfiction.
Featuring 72 action-packed, easy-to-lead family devotions. Set aside a night or two each week for a "special time" where you and your kids can have family fun together and learn valuable lessons from God's Word. No advanced planning is needed. Anyone can do this. The ebook contains devotions concerning a variety of topics including salvation, fear, trust, sin, forgiveness and much more.
Find more family resources at 330resources.org/family.
If these resources bless you, consider supporting this ministry:
Follow Us:



Share these resources: