TOOTHPASTE SQUEEZE
You will need:
1 tube of toothpaste
1 plate
A Bible marked at Isaiah 9:6
Get Started
Gather your family around. Then squeeze out a good amount of toothpaste on a plate.
ASK—Do you think you can get it all back inside the tube?
Give each family member a chance to try.
(Some may try scooping it back in; Some may ask for scissors to cut it open and put it back. Just tell them no if you don't want them to ruin the toothpaste tube; still others may want to lick all the toothpaste off the plate and use their mouth to put it back in. This is actually quite funny although if they push too hard, toothpaste will begin to come out of their nose—This really happened once!)
ASK—Is it possible to get all the toothpaste back inside?  (No.)
SAY—The toothpaste is kind of like your words. Once something comes out of your mouth you can't take it back. So if you don't mean it, or you don't plan to follow through with it, don't say it. Every word you say should be as trustworthy as a promise.
ASK—Did God ever make promises?  (Yes, the Bible is full of promises for you.)
ASK—Can you name a promise that God made?  (Nothing can separate you from His love; He will never leave you; That you're going to heaven once you've given your life to Jesus; etc.)
SAY—God also promised that a Savior would be born.
Read Isaiah 9:6 from your Bible.
SAY—This is a promise God made about 700 years before Jesus was born. God always does what He says, and we should do the same.
PRAY—Thank God for Jesus and how wonderful He is. Thank God for always keeping His promises.
This family devotion is from: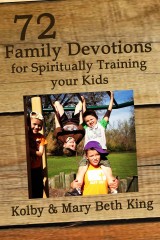 72 Family Devotions for Spiritually Training Your Kids
ON SALE for $5.99. Regular price: $9.99 USD. Nonfiction.
Featuring 72 action-packed, easy-to-lead family devotions. Set aside a night or two each week for a "special time" where you and your kids can have family fun together and learn valuable lessons from God's Word. No advanced planning is needed. Anyone can do this. The ebook contains devotions concerning a variety of topics including salvation, fear, trust, sin, forgiveness and much more.
Find more family resources at 330resources.org/family.
If these resources bless you, consider supporting this ministry:
Follow Us:



Share these resources: