YOU WILL NEED:
-A Bible marked at Matthew 7:7-8
GET STARTED
Tell some "Knock, Knock" jokes and let your child also try to make some up, if they want too.
Here are some examples:
Knock, Knock / Who's There?
Ima / Ima Who?
Ima a really hungry. Can we order a pizza?
Knock, Knock / Who's There?
Shirley / Shirley Who?
Surely you can get up and open the door!
Knock, Knock / Who's There?
Dishes / Dishes Who?
Dishes the police! Open up!
Knock, Knock / Who's There?
Handsome / Handsome Who?
Handsome of the pizza to me!
Knock, Knock / Who's There?
General Lee / General Lee Who?
General Lee I ring the doorbell!
Knock, Knock / Who's There?
Boo / Boo Who?
Please stop crying. I didn't mean to scare you.
Knock, Knock / Who's There?
Tom Sawyer / Tom Sawyer who?
Tom Sawyer underwear!
SAY—As Jesus was teaching, listen to what He said about prayer?
Read Matthew 7:7-8 from your Bible.
ASK—What do you think Jesus meant by these verses?
SAY—When you have cares and concerns, God wants you to ASK Him, SEEK Him about them, and KNOCK on "His door". He wants you to bring your requests and your whole life to Him.
ASK—Does this mean that you will always get what you pray for? (No, because God knows best and won't give you things that wouldn't be good for you. You have to trust that God will answer prayers in the best way possible.)
ASK—Does God always answer prayer? (Yes. God ALWAYS answers prayer: He answers by saying "Yes" or "No" or "Not right now—wait a while." God doesn't always answer yes, but He does always answer.)
ASK—What are some things that you would like to ask God about?
PRAY—Take turns praying and laying your requests before God.
This family devotion is from: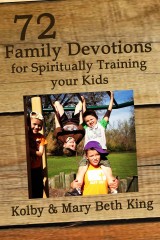 72 Family Devotions for Spiritually Training Your Kids
ON SALE for $5.99. Regular price: $9.99 USD. Nonfiction.
Featuring 72 action-packed, easy-to-lead family devotions. Set aside a night or two each week for a "special time" where you and your kids can have family fun together and learn valuable lessons from God's Word. No advanced planning is needed. Anyone can do this. The ebook contains devotions concerning a variety of topics including salvation, fear, trust, sin, forgiveness and much more.
Find more family resources at 330resources.org/family.
If these resources bless you, consider supporting this ministry:
Follow Us:



Share these resources: