The night before Thanksgiving we stayed at my mom's. So Titus, our two year old, slept in the same room as Kolby and I. Titus had been asleep for quite sometime before Kolby and I went to bed. Just as we were about to go to sleep we started to hear some movement and then…Laughter.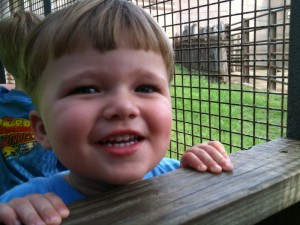 Titus had started laughing in his sleep! He let out a few chuckles and then came the soft purr of his snoring. It was so cute–One of those little moments that makes you think about just how great your kid is. How blessed you are that you get to be their mom. So many times I find myself wishing I could mentally video different things that they do. Small things. Like how their faces light up when you laugh at one of their jokes. The noises they make while they sleep. The stories they tell. The way they say words like egg nog which in our house is now called nognog. The way they throw fits and even the way they cry. The point is I count it all joy to be a part of, and to sometimes even deal with, all the parts of my kids–The good, the bad, and the messy. They go through it all and I get to be there for them. It's part of growing up.
God counts it all joy to father us. He's in it for the long haul. We are his kids. He picks us up when we fall. Holds our hand when we hurt. And loves when we laugh out loud.
Jesus Lives!
Mary Beth King
Follow Us:



Share these resources: