YOU WILL NEED:
-A Bible marked at Luke 11:1 and John 1:12
(This would be a good discussion at the dinner table.)
GET STARTED
Read Luke 11:1 from your Bible.
ASK—In the prayer, what did Jesus call God? (Father)
ASK—Is everyone a child of God? (No. Everyone is a creation of God but not everyone is a child of God.)
Read John 1:12 from your Bible.
ASK—What makes someone a child of God? (They have to "receive" Him.)
ASK—How does someone "receive" Jesus? (By giving their lives to Him. By accepting Him as their Lord and Savior.)
SAY—There is only one way to be a child of God; only one way to go to heaven; only one way to be forgiven of your sins, and that's by giving your life to Jesus and accepting Him as the Lord of your life.
SHARE about when, how and why you gave your life to Jesus. Let your child know that if they ever have any questions about Jesus or heaven, they can ask you.
(If your child has questions about how to give his life to Jesus, you can find an easy way to present the plan of salvation by downloading the "Heaven?" iPhone app or by visiting http://threethirtyministries.org/family-ministry-resources/how-to-lead-your-child-to-christ/.)
This family devotion is from: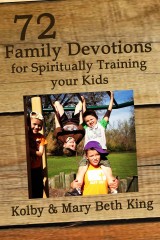 72 Family Devotions for Spiritually Training Your Kids
ON SALE for $5.99. Regular price: $9.99 USD. Nonfiction.
Featuring 72 action-packed, easy-to-lead family devotions. Set aside a night or two each week for a "special time" where you and your kids can have family fun together and learn valuable lessons from God's Word. No advanced planning is needed. Anyone can do this. The ebook contains devotions concerning a variety of topics including salvation, fear, trust, sin, forgiveness and much more.
Find more family resources at 330resources.org/family.
If these resources bless you, consider supporting this ministry:
Follow Us:



Share these resources: