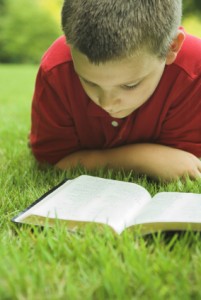 Our Goal
To help students experience God's Word in a colorful, fun, surprising and creative manner; to ignite in them a hunger that leads them to dig in, crawl inside, explore, enjoy and live out God's truth.
Teaching Method
Children only remember 10% of what they hear, 20% of what they see, and 30% of what they hear and see. They are concrete learners, which means they retain 80 to 90% of what they do, touch, smell, taste, and help teach. Therefore, this curriculum is packed with a teaching style that will help them to:
Find it. Taste it. Touch it. Make it.
Know it. Grow it. See it. Show it.
Live it!
Full-length lessons are geared for a 1 to 1 1/2 hour session. Supplies are needed for these lessons. Please review the "Items Needed" list at the beginning of each lesson in advance so that early preparations can be made.
Life of Jesus
The Great Island Adventure–for younger children
Extreme Life–for older children
The Early Church
Sailing the Seven C's
Jesus, Our Lord
Happy Birthday, Jesus!
Old Testament Heroes
Follow Us:



Share these resources: